Buy Prescription Sunglasses Online - Goggles4u.com
Add Styles To Your Eyes - Get Prescription Sunglasses Online
We should order a pair that nurtures our eyes throughout the 4 seasons and this is possible when we recognize our vision requirements and orient them with a fashionable approach. It's time to add styles to your eyes with our prescription and non-prescription sun-glasses that dazzle with top tints. The prescription sunglasses are a fun thing to wear as they enrich our outfit and correct the vision whereas the non-prescription sun-glasses prepare us for a bold fashion statement.
Here – we offer you the most visually pleasing sunglass designs at discounted rates that fashion-forwards pulse on with the intent of delivering the right mix and match of styles and protection for your eyes. The prescription sun-glasses can have progressive or bi-focal lenses with coatings that deflect UV sunrays and soothe vision with guaranteed surface prowess. Browse what we have in stores for prescription sunglasses and use our famous tints to ignite the fun.


Acknowledge The Tint Intensity

Before we intently order prescription sunglasses online, it is important to acknowledge the tinting intensity and receive what we expect at large. We use stellar machinery to offer 6 tremendous sunglass tints that include Grey, Green, Brown, Rose, Blue, and Yellow in Light, Medium, and High intensity. It is recommended to use your prescription while ordering your prescription sunglasses online.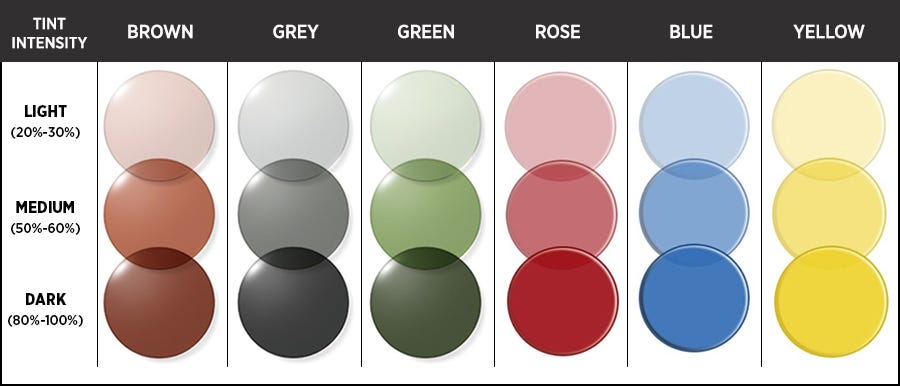 And now, it is time is to select your desired frame, we have a huge assortment of the latest frames where you can select from full-rim, half-rim, or rimless styles and also have these latest and trendy eyeglasses for men and women so they can depict their classy appearance more audaciously.
Selecting The Sunglasses and Adding The Tints!



Choosing prescription sunglasses and adding a tint is as convenient as everything else on Goggles4U. After exploring our style-blazing sunglass designs, it is essential to type in your prescription to finalize the lens type. After this – lookout for the "Tinting" option on the "Lenses" page and use the on-screen navigators to pick a suitable tint color and change the shading intensity from therein.